I have been photographing for almost my entire life in varying degree of professionalism of course. For me the photography and traveling is more than just an interest, it's more like a lifestyle which is always on my mind. I am totally self learned and my experience and knowledge is gathered through many years of trial and erroring. Reviewing thousands of photos of other photographers is of course also a great source of inspiration and the key to development. Earlier my photography was mostly aviation related material which over time has developed to cover all areas within the travel photography genre. By now I have been visiting nearly 70 countries worldwide and I do have the camera ready all the time to catch the magic moment.

I wrote this photo guide to give you some hints and other insights how to take better travel photos. My knowledge and experience can hopefully help you avoid some of the mistakes I have done, which in the same time will lead to a faster progress curve. The guide will continuously be updated and I hope you will find it useful. Remember that photography is a never ending development and you will never be fully-trained!

Enjoy and happy shooting!

Read post »
During the last couple of years Croatia has developed and turned into a real competitor to the classic charter destinations around the Mediterranean Sea. It's not hard to understand why since here you will find everything you looking for with a wide variety of activities and experiences than just the sun and beach life. Croatia has probably the most crystal clear waters you can find in Europe and add up several old ancient cities and beautiful national parks to explore, you got something special to look forward to.
It's just around 2-2,5 hours flight from most of the airports in Scandinavia and the range of flights to Dubrovnik, Split and Pula is quite huge. I have been flying to these destinations myself quite many times but never been off the airport. Now it was about time!

Anyhow, we decided to bring the car along the Balkan countries just to get the most out of it and find all those photographic must-do's which are hard to get to otherwise. The road trip in Croatia begun in the capital Zagreb with a nice sunny stay. Zagreb isn't that big metropole as many other European capitals but still worth a visit. The beautiful old town and the Church of St. Mark is a must see and I guess I was quite lucky with the photos since there was only a few people moving around the square even though I was shooting at noon. The sun is at the best at noon or early afternoon to get the beautiful roof best enlightened. The old town is elevated compared to the rest of downtown so you got two alternatives getting up there, walking or taking the old funicular. The cathedral and nearby Dolac Market with red sunshades are also two main attractions you have to see.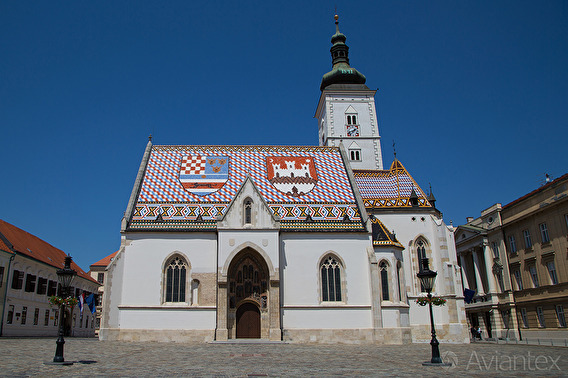 The Church of St. Mark with its beautiful roof details at old town Zagreb.

Leaving Zagreb by road for the coast, you get an opportunity to drive by the beautiful national park of Plitvice. Pouring rain in my case almost the whole day didn't mean I got the shots I wanted but still I can truly recommend this place with all lakes and waterfalls in the great looking turquoise colors!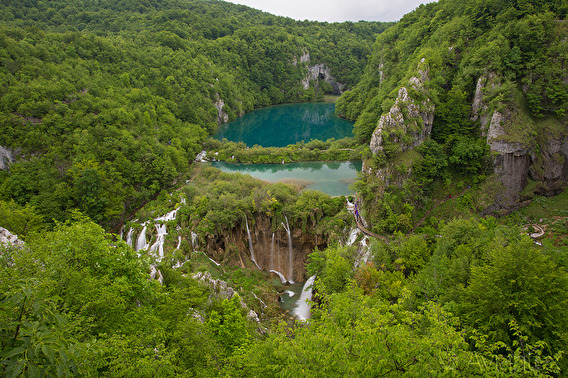 The UNESCO World Heritage site of Plitvice National Park.

Just a few hours more in the car along a beautiful and elevated landscape we reached Split. This is the gateway for the ferry services to all surrounding islands outside Split. Before joining one of those which is a must you have to explore Split for a day or two. The whole city center is surrounded and dominated by Diocletian's Palace which is the main attraction with beautiful old buildings and squares. A waterfront walk to the small marina is another great photo opportunity to the get the typical Split silhouette during the afternoon, sunset or blue hour.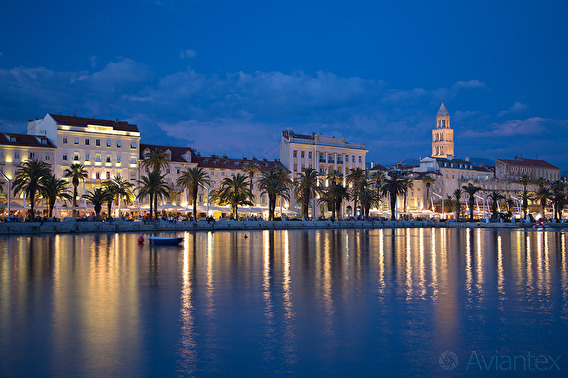 The waterfront walk with the clock tower of Diocletian's Palace during the blue hour.

Which island to visit is another tricky questions if you have to limit to one or just a few. Our decision in this case ended up with Hvar and for getting there we caught the ferry service by Jadrolinija and brought along our car to the island. No problem at all but I guess it will be crowded during the peak summer months when everyone is going out to the islands. Hvar was really nice and quiet in May, the water a bit cold but still great weather and time for sun and bath. Two small towns of Hvar and Stari Grad got a visit and they are both well worth it. Hvar is probably the busiest of them two and more touristic with a lot of sail ships and yachts. Try to have a look at the purple colored lavendel fields which is synonymous with the island.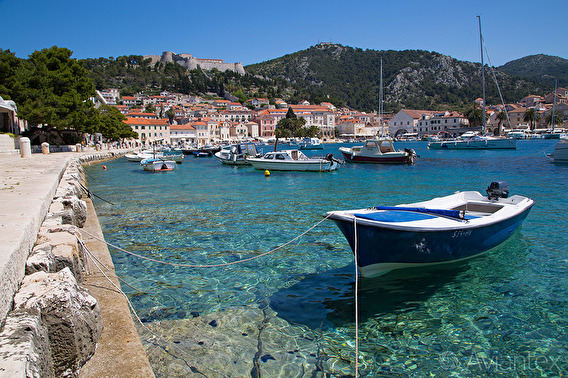 The marina and crystal clear waters of Hvar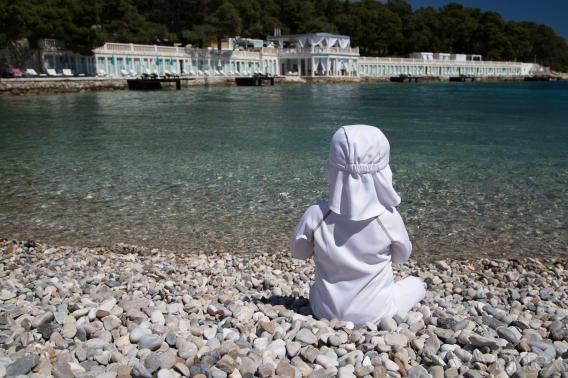 Our daughter enjoying the rocks at the beach at Hvar

I guess a Croatia trip isn't complete without a visit to the famous old city of Dubrovnik. A city wall walk is a great start and something I truly recommend. My advice is to start as early as possible both crowd wise and for the best light. Back on ground level you have a lot of narrow streets and buildings from ancient time to explore. Even though very touristic, a stroll along Stradun is another must as well as getting a ride with the cable car up the mountain Srd with great views of the old town. You can get some really great photos and views of Dubrovnik while leaving southbound along the road with dedicated parking lots.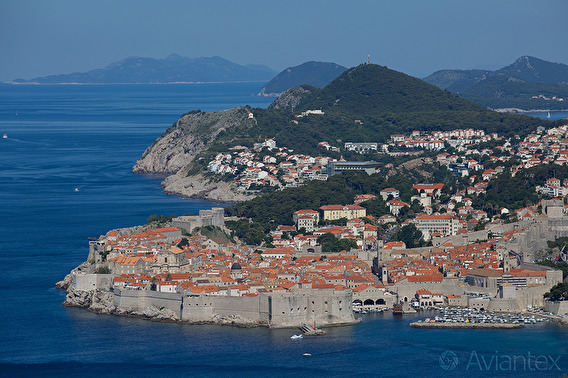 Great views of Dubrovnik and surroundings along the main road.

To summarize, Croatia is a great destination which I truly recommend to everyone...next time I will try another one of the beautiful islands and stay at the northerly coast around Pula and Zadar. Have a look of all photos from the Croatia stay by clicking the link below.
Read post »